When it comes to transforming the aesthetic of your home, a fresh coat of paint can work wonders. Yet, for homeowners in Georgetown, Round Rock, Cedar Park, Leander, and Liberty Hill, the idea of embarking on a painting project can sometimes be daunting.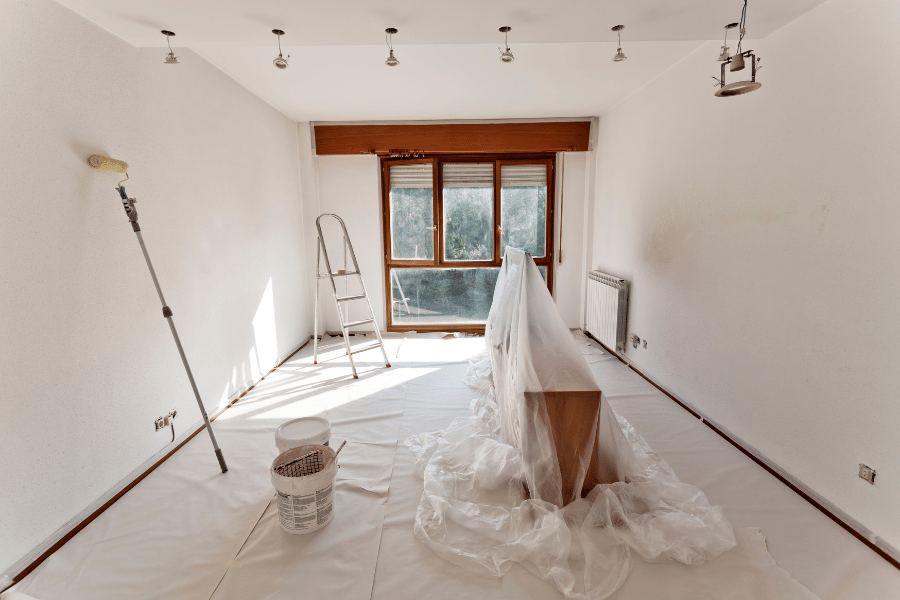 Time constraints, uncertainty about techniques, and the sheer effort involved can be deterrents. But fret not, Texas homeowners! With the right tips in your toolkit, painting a room can be swift, efficient, and satisfying.
Preparation is Key
Before you dip that brush into the paint, prepare your room. Remove all the furniture or, at the very least, shift it to the center and cover it with drop cloths. Protect your floors with rosin paper taped over them. Take off outlet covers and use painter's tape around windows, doors, and trim. It may seem like a lot of work, but this step ensures you work unimpeded, saving you time in the long run.
Choose Quality Tools
Investing in quality brushes, rollers, and painter's tape is a game-changer. High-quality tools not only give a smoother finish but also allow you to work faster. A good brush holds more paint, reducing the number of times you'll need to dip it. Likewise, a quality roller provides even coverage in fewer strokes.
Opt for a Paint + Primer Combo
Consider using a paint that already has primer mixed in. This combination ensures that you may need fewer coats, especially if you're painting a lighter color over a darker one. It's a time-saver and offers excellent adhesion and coverage.
The 'W' Technique
When using a roller, start by painting a large 'W' on the wall and then filling it in without lifting the roller. This technique ensures an even application, reduces the appearance of lines, and lets you cover a larger area more quickly.
Keep a Wet Edge
Always aim to keep a wet edge as you paint, which means you overlap the paint onto the previously painted area before it dries. This technique helps to avoid any unsightly brush marks or roller lines, making your painting process smoother and faster.
Use the Right Amount of Paint
Overloading your brush or roller with paint won't make the job go faster. It can lead to drips and a messy finish. Dip the brush so that only a third of the bristles are coated, and tap off the excess. For rollers, ensure it's well-coated but not dripping.
Clean Up as You Go
Instead of leaving the cleanup to the end, tackle small tasks in between. For instance, if you spill some paint, wipe it off immediately. This proactive approach prevents more time-consuming cleanup later and ensures your workspace remains efficient.
Organize and Label
If you're painting multiple rooms or using various shades, keep your paint cans organized. Label them with room names or numbers. This simple step ensures you don't waste time figuring out which paint belongs where.
Store Brushes and Rollers Between Sessions
If you're breaking up the painting over a few days, there's no need to clean your brushes and rollers at the end of every day. Instead, tightly wrap them in plastic bags or cling wrap and store them in the fridge. They'll be ready to use the next day!
Final Touches Matter
Once the paint is dry, remove the painter's tape at a 45-degree angle to ensure a clean line. It's a quick step but adds a professional touch to your DIY efforts.
In conclusion, painting a room doesn't have to be an all-day endeavor. With these expert tips, homeowners in Georgetown, Round Rock, Cedar Park, Leander, and Liberty Hill can achieve a beautifully painted room in a fraction of the time. So roll up those sleeves, and happy painting!