Homeowners of Georgetown, Round Rock, Cedar Park, Leander, and Liberty Hill, have you ever wondered why certain rooms in your home evoke particular emotions? The answer often lies in the color of the paint on your walls.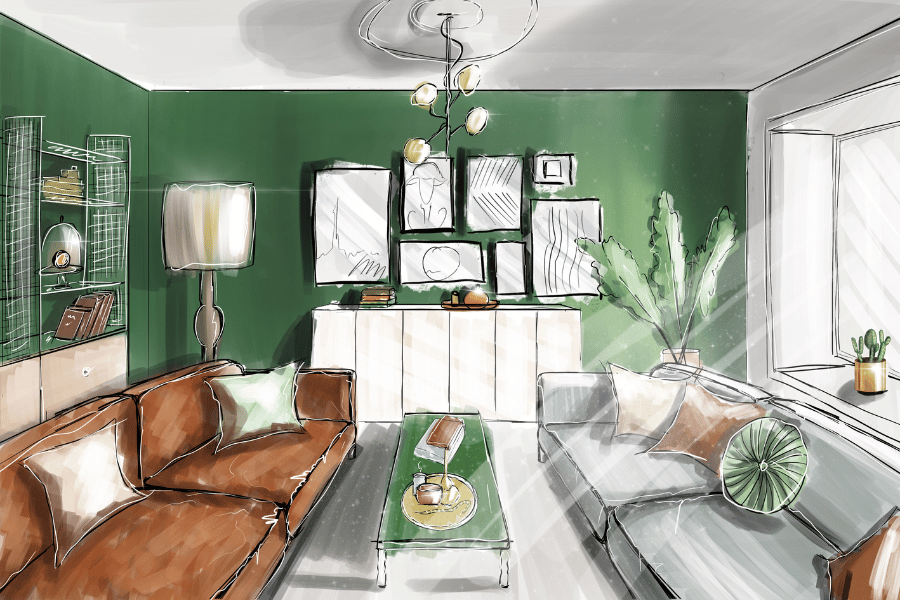 Delving into the psychology of color can help you make more informed decisions about the palette you choose for your home. Let's embark on this colorful journey together!
1. The Calming Blues Imagine drifting peacefully on a tranquil sea or gazing up at a clear, azure sky. Blue shades are often associated with calmness, stability, and relaxation. Painting a bedroom or bathroom in soft hues of blue can create a serene oasis, perfect for unwinding after a long day.
Tip: Lighter shades of blue, like powder blue or sky blue, can make smaller rooms feel more spacious.
2. The Energizing Reds Red is the color of passion, energy, and excitement. This vivacious hue can be a wonderful choice for living areas or dining rooms where lively conversations and activities take place. However, use red judiciously; while it can stir up enthusiasm, it might also elevate stress if used excessively.
Tip: Consider using red as an accent wall or pairing it with more neutral shades to balance its intensity.
3. The Optimistic Yellows Sunshine, daffodils, and summer days—yellow evokes feelings of happiness, optimism, and warmth. It's a fantastic choice for kitchens or sunrooms, where a burst of sunshine, even on a cloudy day, is always welcome.
Tip: While a bright yellow is cheerful, softer pastel yellows can bring warmth without overwhelming the space.
4. The Grounded Greens Drawing inspiration from nature, green symbolizes growth, harmony, and freshness. Whether you opt for a muted olive or a vibrant emerald, green is versatile and can be suited to any room in the house.
Tip: Pair green with wooden accents or furniture to truly bring the outdoors in.
5. The Sophisticated Neutrals Grays, beiges, and off-whites might seem simple, but they are the unsung heroes of interior design. Neutrals offer a sophisticated backdrop, allowing your furniture and décor to shine. Moreover, they are timeless, ensuring your space feels contemporary for years to come.
Tip: Spice up neutral rooms with colorful accents like throw pillows, rugs, or art.
6. The Invigorating Oranges While not everyone's first choice, orange can infuse a room with enthusiasm and creativity. It's a wonderful choice for home offices or craft rooms, where inspiration and energy are key.
Tip: If you're hesitant about using orange, start with peachy or terra cotta shades for a more subdued, yet still invigorating, feel.
Conclusion Your home is a reflection of your personality, and the colors you choose play a pivotal role in setting its mood and ambiance. Understanding the psychology behind colors can not only enhance your living experience but also ensure that everyone who walks through your door feels the emotions you aim to evoke.
Remember, residents of Georgetown, Round Rock, Cedar Park, Leander, and Liberty Hill, it's not just about painting walls, it's about creating an environment that resonates with you and your loved ones. Happy painting!