You've spent hours pouring over paint chips and samples, you've asked friends for their opinions, and you've envisioned the perfect hue for your living room. Excitedly, you pop open the paint can, ready to transform your space. But as you begin to apply the first few strokes, something seems… off.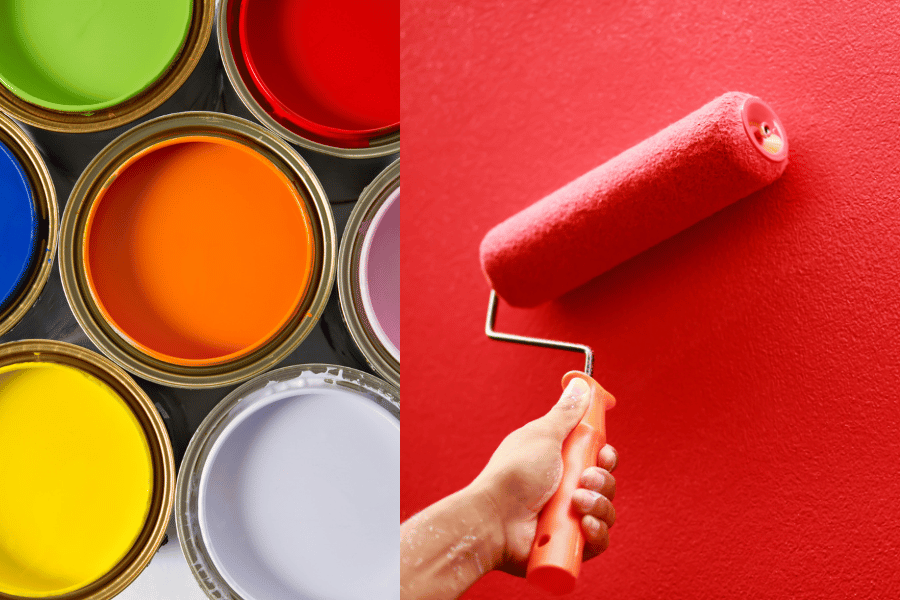 The color on the wall looks different from what you saw in the can. Before you worry that you've made a mistake, let's explore why this happens and what you can do about it.
Lighting: The Great Influencer
The number one reason paint looks different on the wall is lighting. Natural daylight brings out the truest color, while incandescent lighting can warm up tones, and fluorescent lighting can cast a cool glow. Always consider the primary light source in your room when choosing a paint color. A tip for success? Paint a large swatch on the wall and observe how it changes throughout the day as the lighting shifts.
Underlying Tones: The Subtle Nuances
Paint colors have underlying tones that might not be immediately apparent. A gray might have a lavender undertone, or a white could lean towards blue. These undertones can become more prominent once on a large surface and when influenced by surrounding colors, such as flooring or furniture. To avoid surprises, identify the undertone in your chosen paint color and see how it corresponds with the rest of your room's decor.
Finish Matters: Sheen and Saturation
The finish of your paint—matte, eggshell, satin, semi-gloss, or high-gloss—can significantly impact how a color appears. Higher gloss levels can make colors look deeper and more vibrant, while flat or matte finishes often seem lighter. Remember, the same color will always look slightly different from one finish to another due to the way light reflects off the surface.
Wet vs. Dry: The Changeover Challenge
Paint looks different when wet—it's a fact. As paint dries, the water or solvent evaporates, and the pigments and binders form a solid film. This process can slightly alter the appearance of the color. For the most accurate preview, let the paint dry completely before making any judgments.
Application and Texture: Brushstroke Blues
How you apply paint and the texture of your walls can affect color perception. Roller marks and brushstrokes can create shadows and texture that change the visual saturation of the paint. Smooth, even application and well-prepared walls provide the best representation of your chosen color.
Color Interactions: It's All Relative
Colors can look different depending on what they're next to. This is called simultaneous contrast. The shades of your furniture, decorations, and even adjacent walls can make your wall paint seem altered. Be mindful of the colors that will surround your chosen paint color.
Quantity and Scale: The Bigger Picture
A small color sample can be deceptive. A color that looks perfect on a tiny swatch might be overwhelming when it covers a large area. It's always recommended to test a larger patch on your actual walls to see how it feels when the color is scaled up.
So, What Can You Do?
Embrace the process! Understand that choosing a paint color is not just about picking a shade from a sample—you're creating an environment. Here are a few actionable steps:
Test it out: Before committing, buy a sample pot and paint a sizable area.
Live with it: Spend a few days with your test patch to see how it looks at different times of the day.
Prep your walls: Ensure your walls are smooth and primed for the most accurate color representation.
Seek advice: Don't hesitate to consult with professional painters who understand how colors behave in different conditions.
Painting is an adventure, a simple yet powerful way to express your unique style and breathe new life into your home. Remember, the perfect color is out there, and it's waiting for you to discover it, can by can, swatch by swatch until it graces your walls just as you imagined. Happy painting!